Benton High School
Class Of 1968
In Memory
Ralph Clark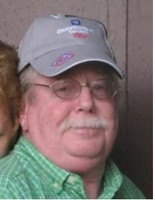 Ralph E. Clark, 67, St. Joseph, passed away Friday, June 18, 2017, at his daughters home.
He was born January 23, 1950, in Maryville, Missouri, to Ralph R. Clark and Flossie Rasco.
Ralph married Dianna Worley on November 8, 1982; she preceded him in death.
He served in the Navy on the USS Cadmus during the Vietnam War.
Ralph loved spending time with his grandkids, fishing, Nascar and his dog, Angel.
He was preceded in death by his parents; and son, Timothy Clark.
Survivors include daughters, Mandy Worley (Amanda), Missy Ray (Chris); son, Michael Clark (Edy); sister, Judy Allen (Paul); brother, Robert Clark; grandchildren, Emily, Lauren, Alea, Xander, Melanie, Destiny; sisters-in-law, Kathi Stains, Barbara Wilson (Jimmy), Tina Curnutt (Alan), Sherry Worley; brothers-in-law, Robert Worley Jr. (Debbie), James Worley (Amber); and numerous nieces and nephews.
Farewell Service: 1 p.m. Thursday, Meierhoffer Funeral Home & Crematory.
Interment: Memorial Park Cemetery.
The family will gather with friends 6-8 p.m. Wednesday, Meierhoffer Funeral Home & Crematory.
As published in the St. Joseph News-Press June 20, 2017.