Benton High School
Class Of 1968
In Memory
Ben Lisenby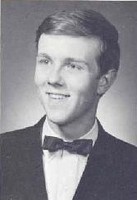 UPDATE BELOW: Mar 20, 1950 to Dec 30, 2012
On May 12, 2014, our website received a short message from a Roger Smith. The "subject" said 'Ben Lisenby". The message said "He has died". An email was sent back to Roger Smith asking for more information. None was received.
A search was then done on Google. This info came up:
http://www.legacy.com/obituaries/delawareonline/obituary.aspx?pid=162249166
It's dated for January 2013. A very short obit for a Ben Lisenby of Delaware stating again that he died after a short illness. No further information was included.
If anyone that reads this has more information, please "contact us" so that we can make any additions or deletions.
Thank you!
The Admins
UPDATE: ON MAY 13, 2018 WE RECEIVED AN EMAIL FROM ALICE CORNELIUS STATING "I am a long time companion of Ben. He died December 30, 2012. He died of ALS, commonly called Lou Gehrig's Disease. Please contact me if you need more information. Alice"