Benton High School
Class Of 1968
In Memory
Gary Kerns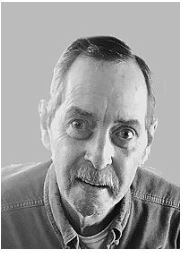 GARY KERNS 1949-2017
per the St Joseph News-Press 22 March 2017
AGENCY, Mo. Gary Wayne "G.W." Kerns, 67, Agency, passed away Saturday, March 18, 2017, at his home surrounded by his family. God saw him getting tired and a cure was not to be, so he put his arms around him and whispered come to me.
Gary was born October 25, 1949, in St. Joseph, to J. R. and Lottie (Miller) Kerns.
In 1968, Gary graduated from Benton High School after which, he was drafted into the U.S. Army during the Vietnam War. Gary later worked at Westab. He completed the last 33 years of his career, as an iron worker (Local 10) in Kansas City, retiring in 2009.
Gary married Janice in 1990, and was happily married for 26 years.
Gary was preceded in death by: his parents; sister, Linda Bell; brother, Sam Kerns; and stepson, Rhett Eckley.
He is survived by: his wife; daughter, Beth (Chad) Neff; stepson, Derek (Kimberly) Eckley; brothers, Bill(Mary Kay) Kerns and Roger (Jennie) Kerns; sister, Roberta (Hal) Winger; sister-in-law, Shirley Kerns; mother-in-law, Lorene Hogan; grandchildren, Spencer and Presley Neff, Christin (Nathan) Arnold, Kyle (Heather) Eckley, Nick (Rachel) Eckley and Emily Eckley; great-grandchildren, Macy, Molly, Jude and Emery Arnold, Harper and Kallyn Eckley and Asher Eckley; and numerous nieces and nephews.
Growing up Gary loved building things, playing baseball, hunting and fishing. His favorite thing was spending time with his family. He loved his animals, especially his dog Buddy.
He was a man of few words with a kind heart who will be missed by his family.
Gary will never go away but he will walk beside us every day. Unseen, unheard but always near and very dear, we only part to meet again.
Mr. Kerns has been cremated under the direction of Heaton-Bowman-Smith & Sidenfaden Chapel in St. Joseph.
A Celebration of Life will be held at a later date.
The family suggests memorial contributions to the donors choice. As published in the St. Joseph News-Press.